SKILLSEA means Futureproof Skills for the Maritime Transport Sector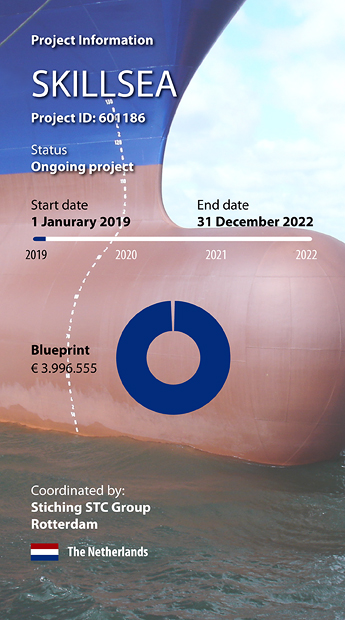 SKILLSEA in a nutshell
SKILLSEA will foster the cooperation on a European level between the industry, education and training providers and authorities from the maritime sector to develop a sustainable strategy to make the education and training for maritime professionals future proof, adaptable and attractive, and to provide maritime professionals with the correct skills for the labor market and to ensure sustainability of the European maritime industry. Particularly, it aims to:
Have a better match between the skills needs of the industry and the education and training provided.
Prepare current and future seafarers for the expected changes within the industry.
Increase the number of European maritime professionals.
Map out technological developments in ship operation and their effect on the industry's skills requirements.
Overcome barriers to the mobility of seafaring labor.
Improve co-operation between education providers, competent authorities and industry.
Why SKILLSEA?
The numbers tell the story
Mismatch between demand and supply: The latest ICS/BIMCO manpower report, launched in May 2016, forecasts a serious future shortage in the supply of seafarers worldwide. It identified a current shortfall of about 16,500 officers (2.1%) and the need for an additional 147,500 officers by 2025 to service the world merchant fleet. While the supply of officers is forecast to increase steadily, this is predicted to be outpaced by increasing demand. Some officer categories are in especially short supply, in particular engineer officers at management level and officers needed for specialized ships such as chemical, LNG and LPG carriers. The report indicates that unless the numbers in training are increased significantly, the supply will not keep pace with the growth in demand of seafarers.
Low output: At the start of 2014, the EU controlled fleet, comprising ships whose ultimate ownership or control lies in an EU country, stood at 450 million gross tonnes and 23,000 vessels. Simply put the EU today controls around 40% of the world's tonnage and can boast the world's most modern and innovative fleet. Furthermore, competition in shipping is global and European shipping must find ways to strengthen its competitiveness and ensure that it has sufficient human capital with the skills required by the changing needs of the industry.
Future skills and cutting - edge technologies in shipping: World digitalization, high-tech equipment and low-carbon solutions are affecting the workplace of the maritime world. The maritime job market needs more tech-based maritime professionals. Seafarers will need to possess new and different kind of skills, in order to "equip" themselves for the technological changes, which the shipping industry is facing. The growing Internet of Things (IoT) and Automation, Artificial Intelligence, Big Data are trends that maritime industry invests regularly. Ships are increasingly using systems that rely on digitization, digitalization, integration, and automation, which call for cyber risk management on board. As technology continues to develop, information technology (IT) and operational technology (OT) onboard ships are being networked together – and more frequently connected to the internet. This brings the greater risk of unauthorized access or malicious attacks to ships' systems and networks. (BIMCO - THE GUIDELINES ON CYBER SECURITY ONBOARD SHIPS V3). To this end, it is significant to create personalized training and education, based on the digitalization changes.
Here it comes the SKILLSEA, a project that will
identify and analyze the current and future skills needs and gaps for the maritime shipping sector;
provide educational packages for specified skills;
develop guides for creating and implementing educational packages and for Business/Education partnerships;
pilot the educational packages and assessment models developed;
produce sustainable skills strategies for maritime and related activities both at sea and ashore;
develop a Viable Knowledge-Sharing Tool (portal) on Maritime Education and Training;
mobilize and involve a wide range of Stakeholders directly in the project processes and products through networks, workshops and related activities;
raise awareness with the use of a wide array of dissemination activities and materials to attract target-groups especially young people across Europe;
deliver a roadmap (long-term action plan) towards a sustainable Skills strategy.
Twenty-seven institutions from sixteen European countries are committed to this challenging initiative of future proof skills for the Maritime Transport Sector.